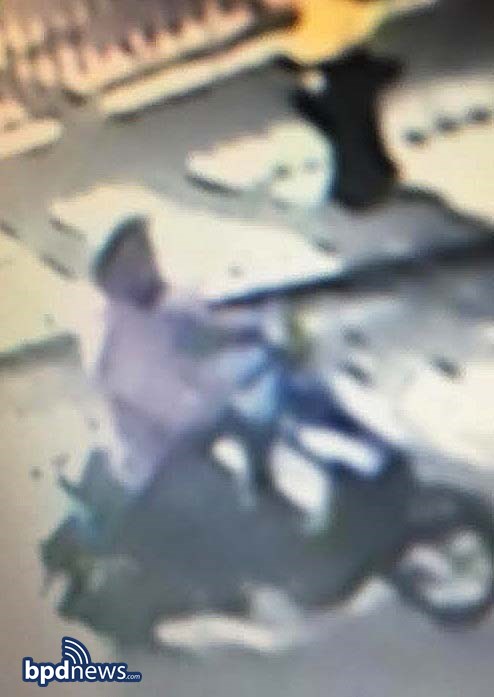 BPD Release Images of a Person of Interest Wanted in Connection to Shooting Incident in area of 10 Winslow Street in Roxbury: At about 3:58pm, on Saturday, October 15, 2016, officers from District B-2 (Roxbury) responded to a call for shots fired in the area of 10 Winslow Street in Roxbury. On arrival, officers located ballistic evidence and observed a motor vehicle which appeared to have been struck by gunfire. Officers acquired information indicating that a black male (see images) wearing a black helmet while riding a black scooter was seen fleeing the area immediately after the shooting. This individual's connection to the incident at this time is still unclear but investigators are asking anyone with any information relative to his identity to please call police. The individual appears to have a beard and is wearing a red-colored sweatshirt and dark-colored sweatpants. The male on the scooter was last seen travelling down Winslow Street towards Dudley Street and the Dudley Triangle. Officers later learned that a 2-year-old child injured during the incident had been taken to an area hospital for treatment of a non-life threatening gunshot wound.
The Boston Police Department continues to actively review the facts and circumstances surrounding this incident. Anyone with information is strongly urged to contact detectives assigned to District B-2 (Roxbury) at (617) 343-6689.
Community members wishing to assist this investigation anonymously can do so by calling the CrimeStoppers Tip Line at 1 (800) 494-TIPS or by texting the word 'TIP' to CRIME (27463). The Boston Police Department will stringently guard and protect the identities of all those who wish to help this investigation in an anonymous manner.